I had big plans yesterday! I did none of them. I woke up with headache that just would not go away. I was very happy to reliaze this morning that I did not have a headache. I do however have what I call a headache hangover. Everything feels muffled and when I move wrong I get just a little twinge. I can live with that.
But…I was going through my days timeline yesterday and somehow I actually did quite a bit,just not what I had planned. I was going to write what I did but somehow it seems like bragging!!
One of the things I did do was clean out the microwave. It is one of my few consistently clean things because I hate the thought of old food dropping in my new food and I do not like the smell of a dirty microwave. I am very scent sensitive. Anywho…..what I discovered was that I was cleaning paint and corrosion of the ceiling of my microwave! My microwave is 5 years old and already dropping paint in my food. I did some quick researach and it is apparently not an uncommon problem with microwaves manufactured in the last 10-15 years. They are built to replaced within 10 years. So mine will be.
I found a nice one that I like that had a different type of interior and had good reviews but the bad reviews were all about components melting or catching fire. I think instead I will just buy another inexpensive one and realize I need to replace it in a decade or less.
My husband and I discussed getting our condo windows replaced. They are very much in need. Some windows are almost completed frosted now. I asked fo recommendations and did some searching. Checked companies through BBB and online reviews and then went online to their websites and checked them out. Then I sent messages out to the ones I wanted quotes from, received responses from ZERO of them. Frustrating. If you do not respond to your new potential customers what will your communication be like with your actual customers if there is a problem? This is a huge pet peeve of mine. If you are a business and you are not going to respond to email or "contact us" forms get them off of your site. Put a note up there that says Due to on site nature of our business we only accept phone call inquiries.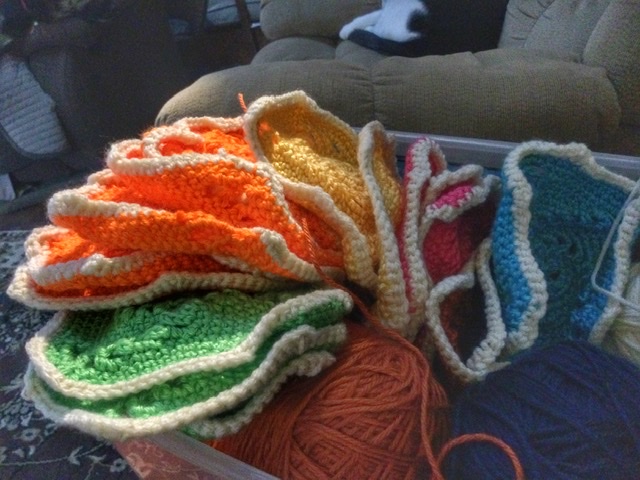 I am about 1/3 of the way through my first Afghan. It is a good learning process. With dolls you have to do things differently than with a nice soft blanket.