I do not really have anything planned for today. I am still on the hunt for some new dresses. There is a thrift store near me that I have never been to that looks nice so I am determined to finally stop in there today. I just stumbled on their instagram feed and it looks like they have a nice setup.
I woke up at 4:30am wide awake and that is just too early! I listened to a podcast and fell back asleep after my husband got up. Consequently ended up sleeping until 8 so off to a slow start. Got up to get my coffee and that is when I realized I was not alone.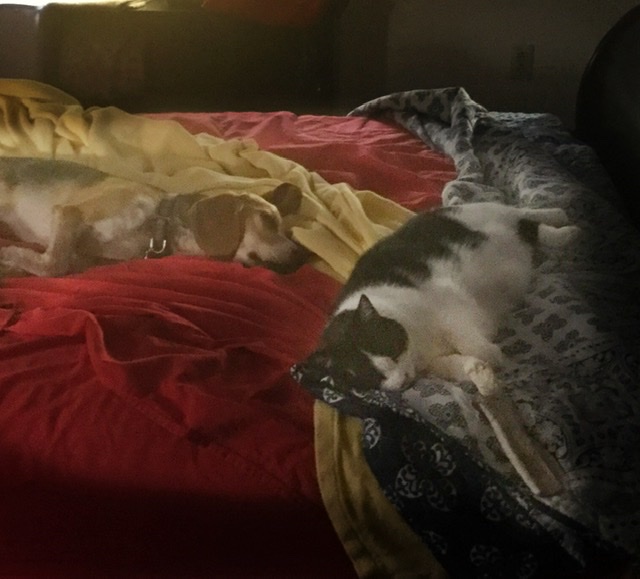 My favorite part of this picture is the bone that Frank has.
Left the tape off my finger hoping it was healed enough, I can tell you after two minutes of typing it is absolutely not. I have arthritis in that finger. I wonder how that will effect the healing.
OMG Stoned Kevin Smith on GMA has struck Lara Spencer mute.
Had a little insurance glitch taken care of by my husband yesterday. $68,000 insurance glitch. Fuckers.
Last night my eyes started burning. Both of them. This morning I feel like I had steroids yesterday. Face is puffy and red. I wonder what allergen got me?
I wonder how much it costs to run a commercial on local television.? I have no commercial to run, just something I was curious about.