My keyboard is very dirty and many keys are sticking. I am typing very solidly to help with this issue. It is not helping, it has taken me so many tries to type those first two sentences! I almost sent an email that started with "God Mooing,".

A few months ago one of my domain names expired. I still own quite a few because they were like $2.90 a year for the first two years. So the one that expired renewed at like $28.00 a year and I was like, no, not just for my fun and vanity. So I didn't renew it. The other day I realized that I have some places that reference it and so on a whim I went to the my domain dealer and looked – they were offering it $9.00 for two years! So, I have my domain back and now www.namecheap.com will forever be the Sirius XM of domains in my head. If you've ever had XM and cancelled it you know what I'm talking about.
I am really enjoying using Mastodon again. My son got me started on it a few years ago and it's always been my own little private area. With the destruction of Twitter moderation and admins and the onslaught of spammers hitting my account there it seemed like a good time to join the exodus to Mastodon. I think people get discouraged because it needs much more interaction than twitter does. Twitter feeds you information and ads and controls more of what you see. With Mastodon you have to go look, and initiate interaction. My method is searching hashtags. I find something I want to see, yesterday it was #shetland the day before #beagle , and then any account that looks interesting I follow. Since there are so many new accounts most of the ones I run across only have a couple of followers which in Twitter world can be scary but here it doesn't mean much.
One of the other interesting things about mastodon is because it is open source there are tons of apps you can find to view it. This is the original apple version which works very well on my iPad. One my android phone it looks completely different.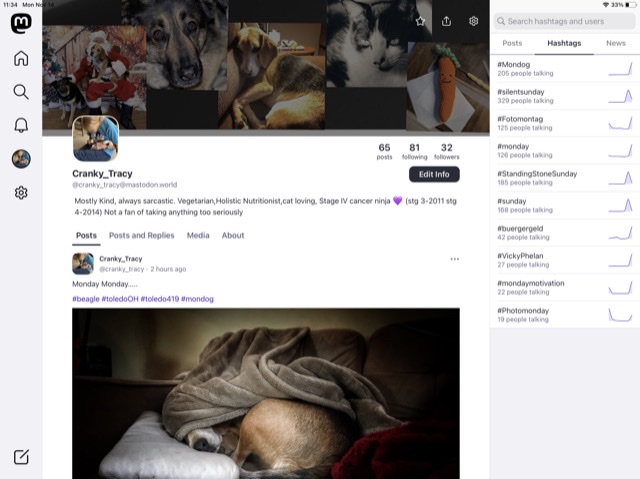 If you've been thinking about checking it out I encourage you to give yourself a couple of days to wander around and find out how it works. I can tell you that looking up #shetland has brought me some beautiful pictures to look at and a couple of interesting people to follow. I enjoy having access to people in other countries.